Seventeen students who participated in a summer internship program hosted by Hawaii Pathologists' laboratory have completed the program. Sixteen of the students presented their research projects via a poster session and platform presentation held at the Queen's Conference Center on August 7.
"Our goal is to increase awareness and knowledge of medicine and pathology, while encouraging involvement in medical research," said program director Dr. Christopher Lum. "This year's group of students did excellent work in several emerging areas of medicine and we couldn't be more proud of them. They have a bright future ahead of them and I believe they will contribute greatly to the field of medicine in the future."
Each student was assigned a pathologist mentor who assisted with research projects in the laboratory. The students also had the opportunity to attend conferences, lectures, shadow mentors and observe how they work.
UH JABSOM Department of Pathology Chairman and Professor Dr. Alan Schiller stated, "The premedical student summer internship program sponsored by Hawaii Pathologists Laboratory, and Queen's Medical Center is a fantastic opportunity to have Hawaii's talented and clever students explore difficult and vexing problems in medicine by doing research projects under the guidance of devoted faculty members.
"The degree of sophistication and cutting edge techniques used by these students is phenomenal. What a wonderful venue to stimulate local medical students to consider medical research and return to our islands for their careers, which is a major goal of JABSOM. Dr. Lum and his staff are to be congratulated for their time and energy working with the best and brightest of our state."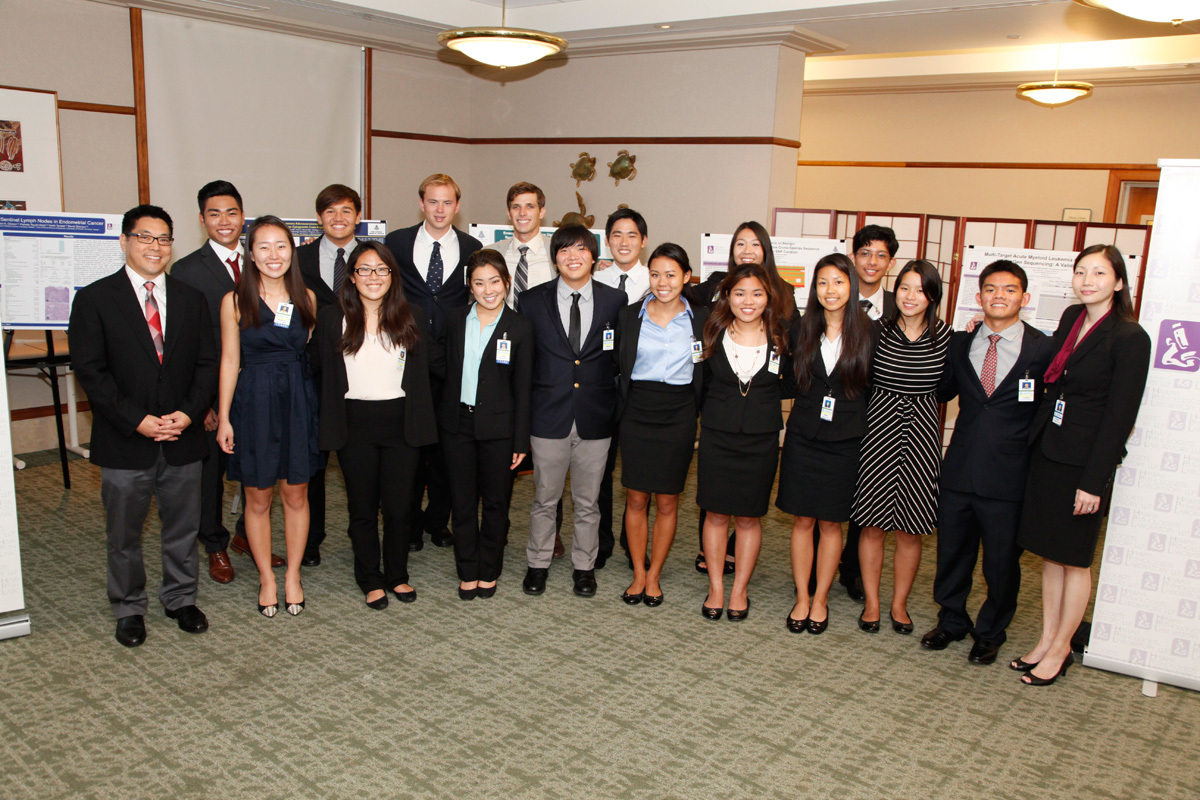 The program participants and their projects were:
Kaylene Au, Scripps College: Pharmacogenetic Analysis of Cytochrome P450 Gene Polymorphisms (CYP2C9, CYP2C19, CYP2D6, CYP3A4, and CYP3A5) in Methadone Maintenance Patients (Punahou Graduate)
Buster Bickerton, Wesleyan University: Pathogenic or Benign: Ontology and Comparative Cross-Species Sequence Analysis in SNP Curation (Punahou Graduate)
Jeffery Hagino, University of Hawaii at Manoa: RNA Retrieval in Tissue Degradation: QC Tools in the Biorepository Workflow (Maryknoll Graduate)
Tama Fukuyama, Scripps College: Epidemiology of Gestational Trophoblastic Disease in Hawaii (Not presented due to travel schedule). (Punahou Graduate)
Lisa Higuchi, Creighton University: Field Microscopy: Point-of-Care Technique for Frozen Section Diagnosis (Hawaii Baptist Academy Graduate)
Elizabeth Ito, Barnard College, Columbia University: BRCA1/2 Mutation Analysis by NexGen Sequencing: Searching for Unique Genotypes in our Island Community (Punahou Graduate)
Laura Kagami, University of Southern California: Loss of Mismatch Repair Protein Expression in Endometrial Intraepithelial Neoplasia (Iolani Graduate)
Keola Kane, University of San Diego (Graduated 2012): Novel Prognostic Target TMPRSS2-ERG for Prostate Cancer (Punahou Graduate)
William Kawahara, Tufts University and Kelsie Kodama, Washington University St. Louis: Multi-Target Acute Myeloid Leukemia Prognostic Assay by NexGen Sequencing: A Validation Study (Iolani Graduate)
Jordan Kondo, University of Southern California: Clinical Utility of Sentinel Lymph Nodes in Endometrial Cancer (Punahou Graduate)
Diane Low, St. Louis University: Molecular Inversion Probe based DNA MicroArrays: A Useful Tool in FFPE Tumor Cytogenetics (Punahou Graduate)
Blake Lyon, California Polytechnic State University: Metastatic Pulmonary Adenocarcinoma to the Kidney: A Urine Cytology and Interphase Cytogenetic Case Report and Literature Review (Punahou Graduate)
Margaret Min, Brown University: Short Tandem Repeat Genotyping in the Diagnosis and Subclassification of Hydatidiform Moles (Punahou Graduate)
Jared Osaki, Creighton University: Chromogentic in situ Hybridization assessment of Human Epidermal Growth Factor Receptor 2 Expression in Breast Cancer: A Validation Study (Hawaii Baptist Academy Graduate)
Michael Sonson, Biola University: Emergence of Cutaneous Diphtheria in Hawaii and Rapid Identification Using Matrix-Assisted Laser Desorption Time-of-Flight Mass Spectrometry (MALDI-TOF-MS) (Hanalani Graduate)
Michaela Tsuha, Occidental College: Bioinformatic Workflow of A Comprehensive Multi-target Cancer Gene Sequencing Assay (Punahou Graduate)
The program ran for eight weeks and concluded with their poster session and platform presentations to family, friends and physician mentors and colleagues at the Queen's Medical Center Auditorium at the Queen's Conference Center.
Students interested in next summer's program can get more information online at www.hpllab.com/content/premedical-student-research. For more information about Hawaii Pathologists' Laboratory visit www.hpllab.com.